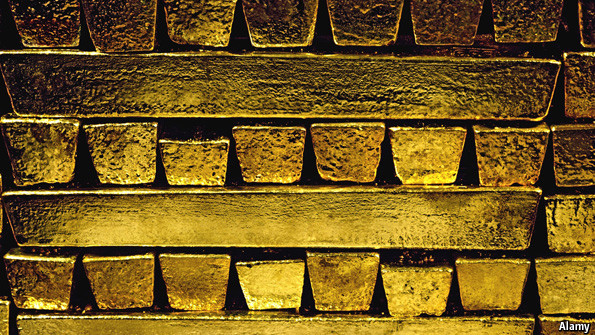 Gold prices are solidly down in early-morning U.S. trading Thursday, in the aftermath of the Federal Reserve's latest FOMC meeting that jerked around several markets, including the metals. June gold futures were last down $10.20 an ounce at $1,273.90. July Comex silver was last down $0.009 at $14.72 an ounce.
Traders and investors are still digesting Wednesday afternoon's Federal Open Market Committee (FOMC) statement and press conference from Fed Chairman Jerome Powell. While the Fed made no changes in U.S. monetary policy, the statement and Powell's comments did move markets. The FOMC statement said some members were worried that inflation is too low, which the marketplace initially read as dovish on monetary policy. However, at Powell's press conference, when asked about worrisome low inflation, he said elements causing present lower inflation are "transitory." While there is no clear consensus at all on the timing or direction of the next Fed interest rate move, it seems most of the marketplace now feels there is less of a chance the Fed will cut U.S. interest rates anytime soon. That's because Powell not only said very low inflation was transitory, he was also very upbeat on assessing the U.S. economy's prospects.
The gold market initially pushed higher but then dropped lower Wednesday afternoon following the Fed meeting, while the U.S. dollar index rallied off its lows to post modest gains. U.S. Treasury bond and note futures prices initially rallied on the FOMC statement but then lost all those gains after Powell's remarks. U.S. stocks rallied modestly on the Fed news.
Technically, the gold bears have the overall near-term technical advantage and have gained some momentum late this week. A nine-week-old downtrend line is in still place on the daily bar chart. Bulls' next upside price objective is to produce a close in June futures above solid resistance at $1,300.00. Bears' next near-term downside price breakout objective is pushing prices below solid technical support at $1,250.00. First resistance is seen at the overnight high of $1,279.40 and then at last week's high of $1,290.90. First support is seen at the overnight low of $1,271.30 and then at the April low of $1,267.90
July silver futures bears have the overall near-term technical advantage. Prices are in a nine-week-old downtrend on the daily bar chart. Silver bulls' next upside price breakout objective is closing prices above solid technical resistance at $15.15 an ounce. The next downside price breakout objective for the bears is closing prices below solid support at $14.50. First resistance is seen at $14.775 and then at $15.00. Next support is seen at this week's low of $14.62 and then at $14.50.