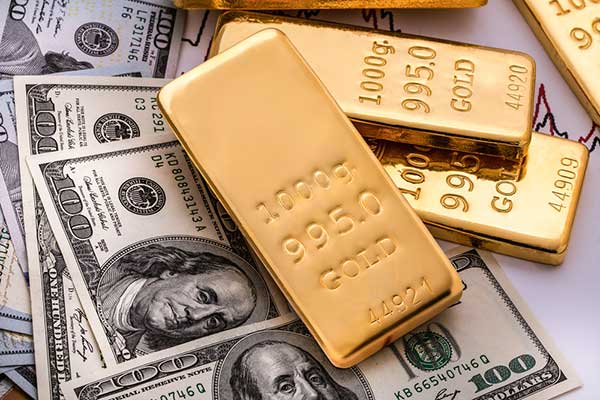 Gold market, while down on the day, is seeing little reaction to the Federal Reserve leaving interest rates unchanged and setting the stage for another interest rate hike in December.
Following its two-day monetary policy meeting, the U.S. central bank left interest rates unchanged within a range between 2.00% and 2.25% as expected. However, in its statement, the committee reiterated its expectations to continue down the path of gradual tightening.
"The Committee expects that further gradual increases in the target range for the federal funds rate will be consistent with sustained expansion of economic activity, strong labor market conditions, and inflation near the Committee's symmetric 2 percent objective over the medium term," the central bank said in its statement. "Risks to the economic outlook appear roughly balanced."
The Federal Reserve's continued commitment to raising interest rates continues to support the U.S. dollar, which in turn, weighs on gold prices. December gold futures last traded at $1,226.80 an ounce, down 0.15% on the day.
The Federal Reserve remains fairly optimistic on the health of the U.S. economy, saying: "the labor market has continued to strengthen and that economic activity has been rising at a strong rate."
However, the committee had little to say on inflation, noting: "On a 12-month basis, both overall inflation and inflation for items other than food and energy remain near 2 percent. Indicators of longer-term inflation expectations are little changed, on balance."
Andrew Grantham, senior economist at CIBC World Markets, said that the central bank's statement is relatively in line with expectations and he does not expect to see any major market reaction.
"As expected the Fed kept rates on hold today after hiking in the prior meeting, but laid the groundwork for another move in December," he said. "There was no concern raised regarding recent equity market volatility. As such, we expect the current pattern of a hike a quarter to continue through Q1 of next year, before a slowdown in growth and still only moderate inflation allows the Fed to ease up on the pace of rate hikes later in 2019."
This is the Federal Reserve's last monetary policy meeting that will be concluded without a press conference. Earlier in the year Fed Chairman Jerome Powell said that in the new year he will hold a press conference after every monetary policy meeting.
sources: Kitco.com