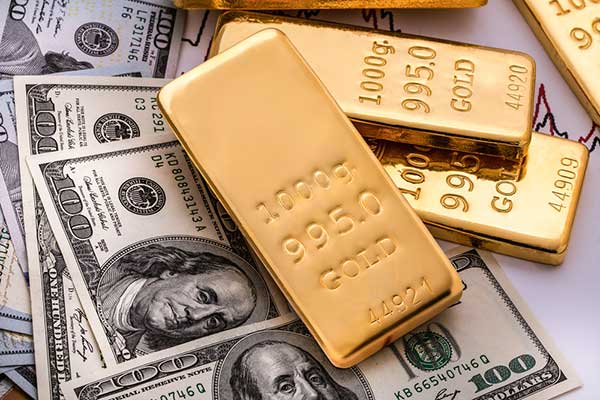 Another week, another record in speculative short positioning in gold.
Although analysts continue to highlight the growing risk of a short-squeeze rally in the gold market, fund managers continue to pile in on the short side, according to the latest trade numbers from the Commodity Futures Trading Commission (CFTC).
The gold market's net-short positioning increased for the fifth consecutive week.
The CFTC's disaggregated Commitments of Traders report, for the week ending July 31, showed money managers increased their speculative gross long positions in Comex gold futures by only 331 contracts to 110,580. At the same time, short bets rose by 6,437 contracts to 153,108. Gold's net-short positioning currently stands at 42,528 contracts, a nearly 17% increase from the previous week.
During the survey period, gold prices were relatively stable; however, many analysts are expecting negative sentiment in the gold market to continue to grow as prices have fallen to a fresh 12-month low.
"Now at 42,500 contracts, they are likely to have been expanded even further in the meantime given that the gold price has continued to fall since the reporting date. The gold price is unlikely to recover in any serious fashion for as long as the headwind persists from this side," said commodity analysts at Commerzbank.
However, analysts at the German bank remain optimistic that it is only a matter of time before gold's fortunes reverse.
"If extensive covering of short positions were to ensue, we believe this would serve as a springboard for the gold price. We envisage significantly higher gold prices by year's end," they said.
Commodity analysts at TD Securities said that there are risks of further weakness as the U.S. Dollar Index has managed to push above a critical resistance level at 95 points. However, they also remain optimistic that gold could attract some buying interest at current low levels.
"With the PBoC increasing reserve requirements for FX forwards and U.S. jobs data disappointing, precious metals should find some support and start to trend higher," the analysts said. "Modest short covering should be a key upside gold driver, provided the dollar does not make new highs."
However, not all analysts are optimistic that gold's selling pressure will end anytime soon. In a recent interview with Kitco News, David Madden, market analyst at CMC Markets, said that gold is stuck in a classic down pattern. While the trend may slow down a little bit, he doesn't see it ending.
He added that a slow burn lower could eventually push gold prices below $1,200 an ounce.
"If you are banking on a short squeeze in gold, then you are long and won't admit that you are on the wrong side of the trade," he said.
However, it's not all doom and gloom in the precious metals space as the silver market has attracted some buyers. The latest CFTC data showed that silver saw net buyers on the week, ending six weeks of consecutive selling.
The disaggregated report showed money-managed speculative gross long positions in Comex silver futures rose by 3,668 contracts to 68,210. At the same time, short positions fell by 1,024 contracts to 76,152. Silver's net-short positioning dropped to 7,942 contracts.
While trading near the bottom of their long-term trading channel, silver prices have been relatively stable. The market has held critical support just above $15 an ounce.
sources: Kitco.com (Neils Christensen)